As a Thai game presenter, you will work for our client in Bucharest, an online casino. Your task will be to present various casino games live, in front of the camera. You will manage the game table, perform all game actions and communicate in a professional manner with the players, live via a chat function. You will be the face of the online casino and will ensure that all casino games run by you will go smoothly. Your goal is to involve the live players in the games as much as possible in a fun way and to make sure that they have a great online casino experience.
Are you social, do you like casino games and do you feel confident in front of the camera? Then apply today for this great vacancy and take on a new challenge in beautiful Bucharest!
Hosting/presenting various casino games on camera for live players.
Guiding the game at the table, as well as on the computer monitor.
Supervising a fair course of outcomes.
Creating a fun experience for the players, by communicating with the players through the Live Chat system in Thai!
Travel to Bucharest without any worries!
If you start working as a Thai game presenter, you will receive a nice and handy relocation package. First of all, the costs of your plane ticket will be reimbursed by your new employer. You don't have to worry about accommodation either, the company offers you shared accommodation of which they will bear the costs during the first year. You get your own room and share the apartment with one or two other colleagues. How cozy is that!
For the first 2 to 3 weeks you follow a complete training where you will be immersed in all the popular games and learn all the tricks of the trade. After completing this training you are ready to get started! When you are completely up and running, you also have the possibility to earn an extra €200 per month as a bonus fee.
It is important that you are flexible and also open to working night shifts, weekends, and holidays. Of course, you will be paid extra for this, and on top, you also get 20 paid vacation days a year!
Bucharest, the Paris of the East, is a city full of surprises!
Bucharest is located in the south of Romania on the river Dâmbovita. The beautiful capital of Romania literally has everything your heart desires! From beautiful nature and parks, special sights, good restaurants with finger-licking food, an abundance of culture and an exuberant nightlife.
Stroll along the large historic boulevards or walk through the cozy, narrow streets in the historic center and discover the hidden antique shops, beautiful mansions, Byzantine chapels and cozy Italian and French restaurants. Are you a real party animal? Then you are in the right place in Bucharest! There are plenty of cafes, cozy bars, pubs and clubs in Bucharest. Here you can relax every day of the week, enjoy a cocktail or go completely crazy!
Bucharest is rich in history and culture and you can learn all about it in the many museums, including the National Military Museum and the National Museum of Romanian History.
Our favourite reasons to live in Bucharest
Why our recruiters love this destination
Had such an awesome time in Bucharest! The city really left an impression on me with its cool mix of old charm and modern vibes. During the day, I wandered through the streets, marveling at the beautiful architecture, especially the impressive Parliament Palace, and made some great finds at the local markets. In the evenings, the city comes alive with countless restaurants and bars where you can enjoy delicious food and drinks. But what really stuck with me is the friendliness of the people. Everyone seemed so welcoming and ready to help, making my trip even more special. Bucharest is definitely a destination I want to visit again!
An amazing Company who helped me to find my dream job. I experienced a professional process with kind and friendly interactions. I was struggling to find the perfect job for me due to studies online but Working Adventures made it possible that I can follow my dreams. I will recommend Working Adventures 100% to everyone!
I had a great experience with working adventures in finding a job in Greece! They contacted me within 1 day and were super helpful in helping me find something to fit my needs. They listened to my requests and I never felt any pressure to make a choice and everything was handled professionally.
Professional, very friendly and supportive! I got a quick response and help was always provided whenever I needed some. Everything worked out pretty well for me and I can only strongly recommend Working Adventures if you ever find yourself looking for a job in another country!
It was a true pleasure and very refreshing to speak with a person from Working Adventures. She was kind, polite and honest about my abilities in regards to the job position I applied for. She helped me in my search and advised me for another opportunity, which turned out to be what I needed. Through Working Adventures I made the first step towards my own abroad adventure.
Everything worked out for me, my adventure starts next month. I only can recommend it to everyone who wants to step out of his/her box in order to make and live the best version of yourself. Hopefully with the help of Working Adventures.
Couldn't have had a better experience. Strongly recommend. My cv was provided to the foreign company, I had a video interview and and got the job. I've gotten very friendly support from Working Adventures, thank you very much!
It was all arranged very quickly. I was supported by Working Adventures throughout the whole process! It was the best experience I had! Always open for questions! Quick responses! Very professional and seems truly interested and excited for you. 10/10 recommended to anyone looking for an international adventure!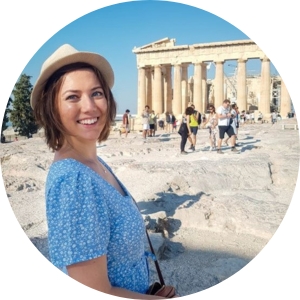 Our recruiters are ready to guide you through this application process!
From the moment you apply until your new job begins, and even after that, we are here to support you throughout the entire process. With Working Adventures by your side, you're not alone.