As a Video Content Analyst, you will evaluate the content that is uploaded to the platform and verify that the shared content is compliant with the app's rules and policies. Should users share content that displays hate speech, undesirable symbols or violent behavior, you can block this content and thus guarantee a safe environment within the platform for users.
Overhaul of online videos in streaming service.

Removal of Inappropriate Content.

Screening for sensitive content (hate or harassment, violent content, nudity).

Assess each case according to the guidelines.

Ensuring a safe experience for users on the platform.

Review of ads according to target audience.
About the company 
Our client in Lisbon is an international company with employees from different countries. As a Video Content Analyst you will be part of a friendly, international team and you will take care of the shared videos on different platforms. Before starting, you will be trained intensively, this will take up 2 months and is completely paid. Here they will teach you everything from the work processes to the guidelines you need to follow. Your salary corresponds to the local salary, if you already have previous experience in this area you can also get a higher salary directly, otherwise you will get a salary increase after 12 months. In addition, the company offers you meal vouchers, a shuttle service to get to work, snacks, coffee and soft drinks etc.. You will also be offered a certain amount of wellness hours, where you can take time to relax. Next to this, you can also profit from yoga and kickboxing classes and rooms to your disposal for taking a nap during the night shift.
Enjoy the relaxed lifestyle of the Portuguese
Embark on the adventure of a lifetime and discover what Portugal has to offer! Traveling by train or bus from Lisbon is very easy and cheap and allows you to explore the country at your leisure. You are guaranteed to love the Mediterranean climate, the unique charm of the country combined with the relaxed Portuguese way of life. Lisbon gives its residents the most hours of sunshine in all of Europe. Young and old meet on the boulevards to toast drinks, enjoy the sun and listen to live music. If you like it more sporty, you can also take part in a course and learn to surf.  Lisbon inspires with its art, great sights, restaurants, shops and cafes. Eating out here doesn't have to be expensive. The so-called prato do dia (the dish of the day) is always a good and cheap choice. A cup of coffee or a glass of wine is also much cheaper here than in Germany, as is using public transport. You can always find inexpensive bargains at the local markets, whether it's clothing, bread, vegetables or fish.
Our favourite reasons to live in Lisbon
Why our recruiters love this destination
From the moment I saw Lisbon featured in a travel program, it has been at the top of my bucket list. This is because it's a hotspot for foodies with trendy bars, culinary food trucks or authentic seafood restaurants on every street corner. I can already picture myself sitting on the magnificent Praça do Comércio while sinking my teeth into Portugal's most famous pastry, the pastel de nata. I'm also totally up for visiting one of the typical fado houses to immerse myself in the local culture with traditional food and Portuguese fado music. That's the magic of travel for me; being open to new experiences, cultures and, of course, good food! 😋
An amazing Company who helped me to find my dream job. I experienced a professional process with kind and friendly interactions. I was struggling to find the perfect job for me due to studies online but Working Adventures made it possible that I can follow my dreams. I will recommend Working Adventures 100% to everyone!
I had a great experience with working adventures in finding a job in Greece! They contacted me within 1 day and were super helpful in helping me find something to fit my needs. They listened to my requests and I never felt any pressure to make a choice and everything was handled professionally.
Professional, very friendly and supportive! I got a quick response and help was always provided whenever I needed some. Everything worked out pretty well for me and I can only strongly recommend Working Adventures if you ever find yourself looking for a job in another country!
It was a true pleasure and very refreshing to speak with a person from Working Adventures. She was kind, polite and honest about my abilities in regards to the job position I applied for. She helped me in my search and advised me for another opportunity, which turned out to be what I needed. Through Working Adventures I made the first step towards my own abroad adventure.
Everything worked out for me, my adventure starts next month. I only can recommend it to everyone who wants to step out of his/her box in order to make and live the best version of yourself. Hopefully with the help of Working Adventures.
Couldn't have had a better experience. Strongly recommend. My cv was provided to the foreign company, I had a video interview and and got the job. I've gotten very friendly support from Working Adventures, thank you very much!
It was all arranged very quickly. I was supported by Working Adventures throughout the whole process! It was the best experience I had! Always open for questions! Quick responses! Very professional and seems truly interested and excited for you. 10/10 recommended to anyone looking for an international adventure!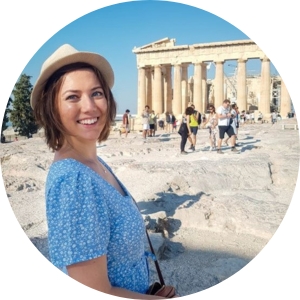 Our recruiters are ready to guide you through this application process!
From the moment you apply until your new job begins, and even after that, we are here to support you throughout the entire process. With Working Adventures by your side, you're not alone.